Carbon Fiber Vinyl
Carbon fiber vinyl is a great way to add style to your vehicle without the high price tag. It looks like the real thing and it even has the texture. Unless you plan on racing or reduce the weight of your car, a carbon fiber wrap is the way to go.
Wrapping your vehicle with carbon fiber not only gives it a custom look, it also protects the paint and lasts several years. If you get tired of it, you can peel it off easily. If you buy real carbon fiber parts, you now have all these extra parts lying around in your garage. Also, aftermarket parts may not always fit perfectly.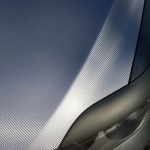 You can wrap the hood, fenders, trunk, roof, or even the whole vehicle using 3M 1080 series vinyl film.
Since carbon fiber vinyl is textured, it does a good job hiding some scratches or dings on your paint or at least not make it look obvious.
Color options include white, black, or anthracite.