Wrap Your Ride With Scotchgard
If you live in the Northeast where the winters are harsh and driving on the highway is a necessity, protecting your vehicle should be a no-brainer.
I'm almost certain if you have an iPhone or iPad, you probably have a protective case to keep it as new as possible. The same should apply to your car which is worth a lot more than your phone.
Scotchgard Paint Protection Film is virtually invisible so you won't even know its on there. It's the same film used on Nascar vehicles so you know your car can withstand a few rocks here and there on the highway.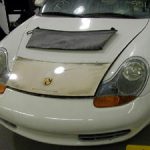 Most car dealerships offer the black vinyl/leather bras but if you leave that on your car for a long period of time, dirt and grime builds up inside and eventually damages the paint anyways. Plus, it doesn't even look good on there anyways in my opinion.
Paint protection film does cost more than the vinyl bras but it's more durable and gives you ability to appreciate your factory paint job much longer.
If you lease or plan to sell your car one day, the resell value of your car is much higher since it stays in excellent condition.
Another reason why getting Scotchgard installed on your car is that it is covered under insurance. If your car is at the body shop, you'll be able to replace the film on the damaged areas.