Window Tinting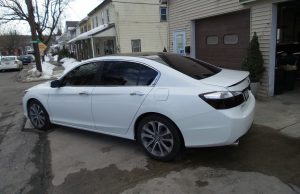 So, you just purchased a new car and I'm sure the first thing you'll want to do is add some tint to the windows. There are several reasons why tinting your windows are beneficial for your car.
Privacy – You don't want people to seeing what you have in there…
Style – It gives your car a sleek, custom look.
UV protection – Protect your skin from the sun.
Stay cool – Put less stress on your AC system during the summer months.
Safety – The film keeps the glass in tact in the event it ever shatters so it doesn't go everywhere.
**As far as legality of window tint, you'll want to check with local authorities since technically in the state of Pennsylvania, you're not supposed to have tint unless it came with it from the factory. As of this writing, it's 70% light transmission which is what most cars come with. Some areas will give you a hard time and others don't care.
However, most of us will probably choose to get our windows tinted so this is what we offer.
5% – Darkest (limo)
20% – Very close to factory privacy glass on some trucks and SUVs.
35% – You can tell there's tint but you can still see inside.